Playing at an online casino is one of the most common things to do in Sweden today. Playing slot machines on the computer has been popular for a long time. Now thanks to technological advances in mobile devices and the fact that most online casinos offer apps or a mobile-friendly website, it is now possible to play on mobile casinos. But how do mobile casinos really work?
Mobile-friendly websites
For starters, it's important to know how it works when an online casino chooses to offer a mobile casino. The most common method for this is to simply offer a mobile-friendly web page, i.e. a page that knows what type of a device that logs in. Then there are also some casinos that choose to create their own app which we will talk more about a little further down.
In order for players to get the best possible experience when they choose to visit a website on their mobile device, some optimization is normally required. If you visit a website that is not optimized for phones on your mobile, you will notice very quickly that it is incredibly difficult to navigate. This is because the web page loads as it does on your computer without considering that you are using a screen that is incredibly small compared to a computer screen. These web pages usually ignore the fact that you have a touch screen too, as they are not adapted for mobile users, which means that everything you do on the page will probably take longer than they should. This is something that can be annoying when playing.
The vast majority of people who have a website want to avoid whats described above, which is why they put a lot of focus in optimizing web pages to work the same no matter what device you are using as most people with internet also have a mobile device. Previously there had to be a separate version of their website to which all mobile users were referred, today it is incredibly easy to create a website that works the same on all devices.
Using HTML5 makes it easier than ever to reach users on all different devices. HTML5 allows the web page to be optimized to make it shrink depending on screen size and to offer menu systems and similar items that are well-suited for users with touch screens.
Most online casinos offer web pages created in HTML5 to ensure that they can be used in a simple and easy way whether you are visiting the casino on your computer or mobile. There is some debate about whether it is better to offer a mobile-tailored website or if its an advantage to using separate apps for Android and iOS for mobile users. In fact, it doesn't make a big difference. You can save a webpage on your mobile phone as a shortcut and open it just like an app. The apps available for the casino and sportsbook at the moment are also incredibly similar to the mobile customized web pages so there is really no major difference or advantage in offering apps.
Apps for Android and iOS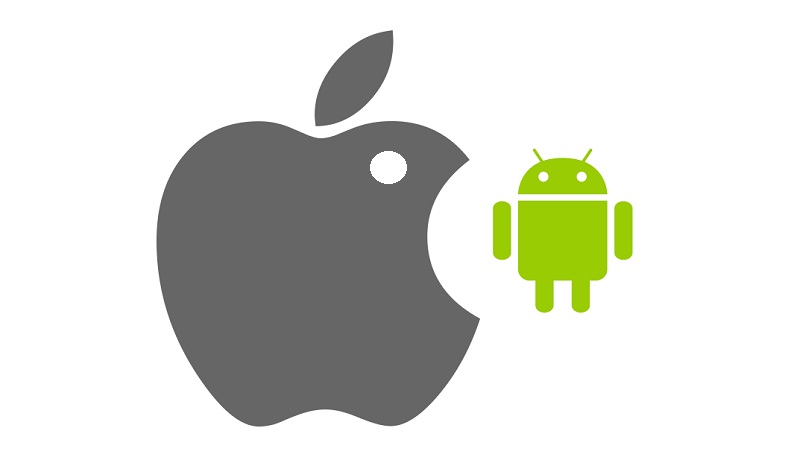 Although a large part of all online casinos that have mobile casinos choose to offer their online casino directly in the browser on your mobile devices, there are many gaming operators who choose to offer apps for Android and iOS for download.
These apps can be a great idea for you if you visit an online casino on your mobile phone very often or for those of you who simply refuse to use the browser on your mobile phone or tablet. But as mentioned above, you can save a shortcut to a web page on your mobile from your apps to quickly and easily access that page again. This is a convenient way to get back to a casino if you do not feel like opening the browser and entering the address each time.
For those who still want to download an app, there are two different ways to do it. Either you can download the app from the App Store or you can download it directly from the casino's website. Which option is offered depends on the casino, but it may also depend on your operating system. Many casino apps are available for iOS in the App Store, but they are not available in the Google Play Store for Android. It may also happen that the app is available in both operating systems and app stores, but it is very common for Android users to have to download the apps directly from a casino's website.
If you have never done this before, you may need to change some settings on your device before you can download an app from a web page and install it. You then need to open your mobile device's settings and allow the installation of apps from unknown sources. You can find this setting under the security settings on your mobile device.
Something that's positive regarding apps is that they usually have minimal loading times and other delay issues, which gives you a very smooth and user-friendly casino experience when you choose to download a casino app.
What is available in mobile casinos?
In most cases, you can find the same things at a mobile casino that you can find at a regular online casino and often much more, especially if you have chosen to play on one of the best mobile casinos. For example, there is usually a range of games consisting of various categories such as slot machines, table games, live casino and more. However, it may be that there is a smaller selection of games on mobile casinos than it is on a regular online casino. This is because some older titles are not yet available in a mobile-adapted version as mobile casinos were not prevalent when the older games were created. Many of these new mobile casinos have also taken the user experience another step forward and offer a whole range of innovative, creative and digital goodies suitable for the format.
However, more and more games are becoming available on mobile devices as time goes on. Today, there are some casinos that offer mobile services where you can play hundreds of different titles, including many of our major Swedish mobile casinos . Another thing worth noting is that overly complex titles are usually not available on mobile devices.
For example, if you play a combination of online casino and betting sites, which is becoming more and more common, there may be a lot of simulator games where you can bet on digital games. It's usually about horses and sports such as hockey and football. These titles are usually not included in mobile casinos as they are overly complex and can potentially slow down a mobile device drastically.
Slot machines on mobile
The most popular game type at the casino today is without doubt slot machines. There are a number of different reasons why slot machines have become the ultimate form of gaming when it comes to playing at the casino. One of the reasons is that there are a wide amount of options available on mobile casinos. The vast majority of casinos offer gambling offerings with hundreds of slot machines on their mobile casino.
Developers such as the Swedish company NetEnt, for example, create slot machines that are not as complex to be played. These slot machines are therefore ideally suited to play on mobile devices, which is one of the reasons why NetEnt's games are regularly offered as free spin games when casinos choose to give out bonuses.
For example, if you try to play a game like Starburst on your computer and then try to play it on your mobile or tablet, it's easy to see that there really is no difference at all in terms of quality. Of course, this does not mean that NetEnt is the only provider that is well suited for mobile devices, it is just one of the gaming providers that is best suited for mobile devices. Other developers are consistently improving to be able to keep up with this development and it is now relatively uncommon for suppliers to release a new slot machine that is impossible to play on mobile devices.
Live casino on mobile
Live casino is a game type that has become more and more popular lately. If you do not know what live casino is, it means that you play games such as roulette, blackjack or baccarat against a dealer who is at a real table for the game you are playing and live streams over a webcam in high quality.
This creates a very interactive gaming experience where it is easy to forget that you are not in a real casino. Although the live casino has been around for a while, it took some time for it to have a breakthrough. Now, this stream arrives in HD and there are usually several different camera angles to further enhance the gaming experience for those who take part in this modern casino experience.
But did you know that live casino is also available on mobile? All that is required is a stable internet connection and that you have money in your gambling account. HD video streaming is nothing new for mobile devices that are used extensively for services like YouTube and Netflix. However, it is important to remember to use a stable connection as it can have a negative effect on your gaming experience if you cannot follow the live broadcast.
However, most live casino providers offer you the ability to stream in lower image quality if you do not have Wi-Fi access. This is a great option as it can be difficult to stream in 1080p if you have a 3G connection without full coverage.
Betting on mobiles
It is becoming increasingly common for online casinos to choose to expand and offer betting, or vice versa that a betting site opens up a casino section. Casinos today have realized that players want to be offered hybrid sites where they can both play at slot machines and bet on their local hockey team.
If it is a casino that offers a mobile-adapted version of its website created in HTML5 then you can usually do betting on the mobile without any major difficulties at all. You then switch between the two sections just as you do on the computer and place your bets directly on your mobile.
If they offer a casino app it may be that they have chosen to offer a separate betting app. There is really no reason for this other than to separate the two so that players interested in betting do not have to navigate through a mobile casino or vice versa. But the fact is that most people who are interested in either betting or casino are also interested in the other. It can then be a frustrating experience to have to switch between different apps to place bets on sports and to be able to play at the casino.
Something that is incredibly popular when it comes to mobile betting is live betting. Live betting is when you place bets on things after the match has started and while it is in progress. For example, you can bet money on who will score the next goal in a football match while watching it on TV. There are usually a lot of different things for you to bet on when choosing to take part in live betting.
Things like the result of a corner or a free-kick, the next scorer and the results after a certain amount of time are common options when it comes to football. Another plus with live betting is that there are betting sites that let you live stream the match if you place bets on it. This is usually also available for the mobile, which allows you to follow various sports events directly on your mobile if you do not have access to watch the match on TV. Then you can live stream a match in HD quality if you choose to play on it so you can follow the match on your own and see if your bets will pay off or not.